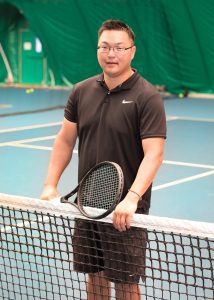 USPTA Tennis Professional
Konrad is a graduate of the Professional Tennis Management (PTM) program at Ferris State University
and former assistant coach to Ferris State University's D2 GLIAC Championship team. He is a motivating
coach and mentor, who focuses on achieving the player's goals by providing solutions, teaching
simplicity in technique, and stressing the fundamentals. It is his passion to help each student to achieve
their fullest potential in tennis by constructing innovative teaching techniques and styles that are
tailored to maximize a player's development and game. Konrad is USPTA certified, PTR certified, and a licensed L1 Cardio Tennis Professional. He has coached
students that have gone on to play collegiate tennis and has shown success in coaching several adult league teams to sectionals and nationals at various levels.