WOMEN'S SUBURBAN TENNIS LEAGUE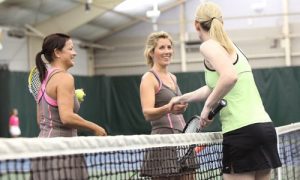 ***MEMBERSHIP REQUIRED***
The Suburban Tennis League is a women's social travel league serving the Detroit metropolitan area.  The league runs yearly, from September through May. Matches are on Fridays, with four-courts of doubles: two-hour timed matches; one hour each, against two different doubles teams
Wessen Indoor has four Ladies Suburban teams – a combined level 5.5, 6.5, 7.0 and 7.5, with captains for each of our teams. This year's (2022-23) captains are as follows:
---
Captains maintain contact with the players on their team for scheduling and lineups. Players are rostered on teams that reflect their current USTA ranking and coach's recommendation. Players can sub, when needed, on teams of a different level.
The League requires that players have a membership at their home club. (An individual membership is $175/year;  a weekday/daytime-only membership is $95/year.)
Players that attend practice have priority for playing in the Friday matches.
2.5, 3.0, 3.5 and 4.0 level women are welcome to join our Suburban League. NOTE – You do not need to have a current USTA rating to participate.
To attend practice, there are several options to sign up:
We send out a weekly invitations to get a player count for the practice. There is a link on the email invitation. Please click "YES" to attend.
You can log into your account and sign up for practice. Go to "Drop-In" classes on the left side of your screen.
You can email the club at info@wessenitc.com.
Online Registration closes the night before practice at 9:00 PM. If the class is not full, you can still attend by calling the club on Wednesday morning. The front desk opens at 8:00 AM. 248-253-9300. You can also email the club at info@wessenitc.com. Or both.
**IMPORTANT** – Please do not show up for practice without registering beforehand! If the class if full, you will not be able to participate. PLEASE NOTE: We are holding a spot for you. Cancellations must occur by 9:00 PM the night before practice to avoid being charged.  
Matches are on Fridays
The Suburban League match fee is $22 and is paid to the host club when you play.
Coaches and captains put together the player rosters for the matches.
Contact your captain for any questions about scheduling.
If your match is at home, we have a complimentary organized warm-up with coach Paul from 9:00-10:00 am.
Match start times are determined by the home club.
The match schedule comes out in early September.
Matches usually begin sometime between 9:00 am and 12:00 pm, depending on the club.
---