We are excited to announce Wessen ITC's UTR Match Play!
Wessen will begin hosting UTR match play events on Friday's, 6:30-9:30 pm*  during the indoor season. Participants will receive Universal Tennis Rating (UTR) credit for all matches played. Matches are 2 out of 3 sets, fast-four format. Competitors that split sets will play a 10 point third set tiebreaker. UTR Rating is one of the key indicators college coaches use for during recruitment. Additionally, Wessen Indoor Tennis Club uses the UTR system as part of our group structure in Top Flight Academy. We are excited to present this opportunity to players new to UTR who want to #GetRated, as well as for UTR vetrans who want to improve their rating during the indoor season. Match Play is open to the public, and not limited to Top Flight participants.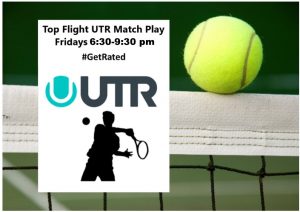 VIEW SCHEDULE/SIGN UP
Co-ed Level-Based Match Play
Players will receive Universal Tennis Rating (UTR) credit for all matches played.
Fridays, 6:30-9:30 pm*
$30 (UTR power subscriber)/$40 (public)
Fast-four format, 2 out of 3 sets
No-ad scoring with 10 point tie-break in lieu of 3rd set
Guaranteed 2 matches
Draws will be made based on player's current UTR
Draws published on the Thursday prior to the event start
To register for Top Flight UTR Match Play, go to myutr.com/clubs/457
*No new matches will be put on the court after 9:00 pm, as long as players have completed at least 2 matches.
UTR SIGNUP STEPS
1. The first step is to create an account. If your child has never registered with UTR, please click here for details on how to set up your child's free account.
2. Once you have a UTR account, you can sign up for UTR events!  Please review this "How-to-Register-for-an-Event" page.
---