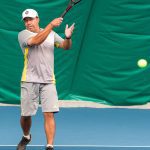 Tennis Professional
Contact Info: (313) 770-4777
Phil has an incredible background in tennis. Growing up in the area, he was a nationally ranked junior who played for Detroit Catholic Central, a
Division I state championship team (1985-86.) Prior to teaching at Wessen ITC, he spent 20 years at Franklin Athletic Club, where he earned the reputation of developing high level juniors.