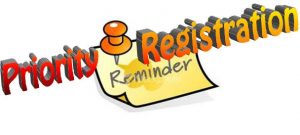 Students enrolled in a class have an opportunity to register for the following session ahead of the general public. This is for same-class, same-time, same-day only. The priority to register in advance ends after the first full week of each session, when at that time the classes for the following session will be open for everyone to sign up.
Priority Registration is possible by phone [248-253-9300] or at the front desk –

it is not available online.

We can not fit you in if you forget to register for next session and the class is full.
Priority Registration is for same-class/same-day/same-time only!
If you are moving up a level, you will need to wait until priority registration ends. Chances are that if you are proactive and register as soon as you are able, you will get your desired class day and time.
Unfortunately everybody will not get their desired class day and time. We do our best to accommodate, however, there are limitations in the scope of what we can do. We will not overcrowd classes to fit players in.
2023 End Dates
For currently enrolled students  – these are the end dates for your priority registration for the next session. You will still be able to register, but after these dates your spot will not be saved in the class.
When registering for FALL II : Sunday, September 18 @ midnight
When registering for WINTER: Sunday, November 6 @ midnight
When registering for SPRING I: Sunday, January 8 @ midnight
When registering for SPRING II: Sunday, February 26 @ midnight
Remember, after the dates above, you can still register – but so can everybody else. These dates indicate the date that you current spot in class will no longer be held.