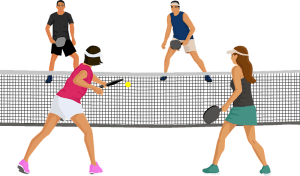 > Thursday 6:30-9:30 AM
> Friday 6:30-9:30 AM
> $8 per player
Tennis and Pickleball Members only (Pickleball memberships are $10 per year; call to get help with membership registration 248-253-9300.
Sign in required at the front desk in the main tennis dome. If players are waiting, after each game 4 players leave the court and the next 4 paddles in the rack go to the open court.
All levels of play on all courts. Minimum 4 players. If less than 4 players have signed up by the close of registration, all registrants will be notified of cancellation and withdrawn without penalty.
SIGN-UP ONLINE or call 248-253-9300