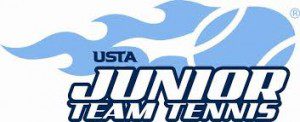 What is Junior Team Tennis?
USTA Junior Team Tennis offers players the opportunity to play in a team setting while emphasizing fun, fitness, and friends for player ages 6 to 18 of all skill levels.
Junior Team Tennis continues to grow every year since its creation in 1998 and has quickly become one of the fastest youth programs across the United States.
With over 2,000 participants annually, our district boasts the largest indoor USTA Junior Team Tennis League in the country.  Almost all our facilities within Southeastern Michigan participate.